product code

:

B2000002

dedicated holdings

:

cone U5 mounting plate, side u5 mounting plate

compatible covers

:

click C (transparent, milk) click D (milk)

manufacturer

:

Topmet Light

maximum tape width

:

12 mm

material

:

anodized aluminium

kind of profile

:

special application

length

:

1 m

colour

:

black

ARC12 is a special aluminum profile that, thanks to its bending capabilities, is used in a variety of modern architectural solutions. The simple and minimalistic form of the profile provides discreet modern lighting.

ARC12 LED profile has the ability to bend in two directions on one plane while maintaining the shape of the bend. It is ideal for use on rounded surfaces, among others for creating arcs and waves. However, it should be remembered that the minimum bending radius in this case is 50cm.
ARC12 LED aluminum profile can also be used as a modern, simple form, hanging luminaire. If ARC12 LED profile is to be used as a hanging lamp, it is recommended buying a SELV 50V power sling, thanks to which there is no need for additional cables.

An interesting offer of compatible accessories and the possibility of bending the profile mean that creating a luminaire based on ARC12 LED profile is really limited only by your imagination.

The ARC12 LED architectural profile is available in four basic colors: white, silver anodized aluminum, black anodized aluminum and raw aluminum. Matching color caps can be selected for each profile.

When using a dense LED strip (minimum 120p / m) and a D-click opal cover it is possible to obtain a continuous light line without visible LED points. If you want to create a luminaire with dimensions much longer than 2 meters, it is recommended buying the C click opal cover in a 20m roll. Then we get a uniform line without any gaps through which light often penetrates the covers' connections.
In addition to the aesthetic function, the profile is to serve as a heat sink that is designed to extend the life of the LED strip, protecting it from excessive overheating. On the other hand, the compatible cover and ending caps protect the strip against dirt and mechanical damage.
Profile installation and dedicated accessories for the profile are shown in the catalog sheet.
DEDICATED MOUNTINGS:
U5 cone flexible mounting plate
U5 side mounting plate
DEDICATED COVERS:
C click cover (transparent, opal)

D click cover (opal)

DEDICATED ENDINGS:
ARC12

 ending (white, silver, grey, black) - compatible with the C click cover.


ARC12 D

 ending - compatible with the D click covers.
DEDICATED SLINGS:
SELV sling 50 V 1500 (silver, black, white)
HOW TO CHOOSE THE DIFFUSER COVER CORRECTLY:
The covers differ in the material they are made from and the transparency degree. Due to this differentiation it is possible to plan the light dispersion and obtain the desire light effect. The transparent cover absorb the least light, next is frosted and opal.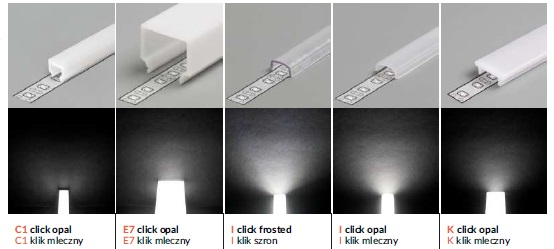 GOOD TO KNOW
the opal slide-in diffuser cover embedded in a sufficiently deep aluminium profile (e.g.  SMART10, SMART16, LINEA20), in combination with LED strip of at least 120 p/m allows to achieve the effect of a continuous light line.

Slide cover (signifying: A, B, E, G, H, J, A9) – made of plastic with three transparency levels (transparent, frosted and opal). It is necessary to insert diffuser cover from the beginning of the profile and drag along the marked socket or click into the Slick socket.
Click cover (signifying: C, C1, C2, C3 D, F, I, K, C9) – its assembly and disassembly is more convenient. It is recommended to choose this type of diffuser cover if the aluminium profile is mounted in a recess or other hard-to-reach places.
PROFILE NAME MARKINGS: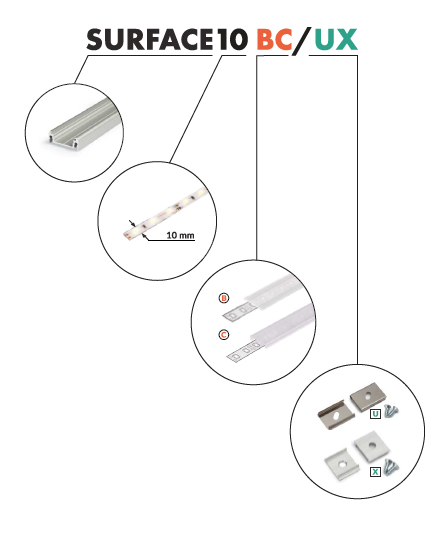 Do you have questions for the product?
If the information above is not sufficient for you, please send us your question. We will try to answer them.
Ask a question

Update Required
To play the media you will need to either update your browser to a recent version or update your
Flash plugin
.