length

:

2 m

application

:

recessed

maximum tape width

:

20 mm

material

:

aluminum

manufacturer

:

Topmet Light

product code

:

E4020000

colour

:

raw aluminum
LINEA-IN20 EF/U7 LED profile 2m raw aluminum


 
LINEA-IN20 aluminum inlet LED profile by the Polish company TOPMET is ideally suited for installation in suspended ceilings or plasterboard. Profile dimensions allow the use of LED strips up to 20 mm. When using LED strip with appropriately selected power and opal cover, the LINEA-IN20 LED profile can be the main lighting in the room without visible LED points.

A wide selection of connectors for the LINEA-IN20 LED profile allows you to create geometric lines of light, and even various types of transitions at the ceiling-wall interface (using connectors specified in our store as the BENT connector). In the case of this profile, you are limited only by your imagination in obtaining a binding with an interesting design.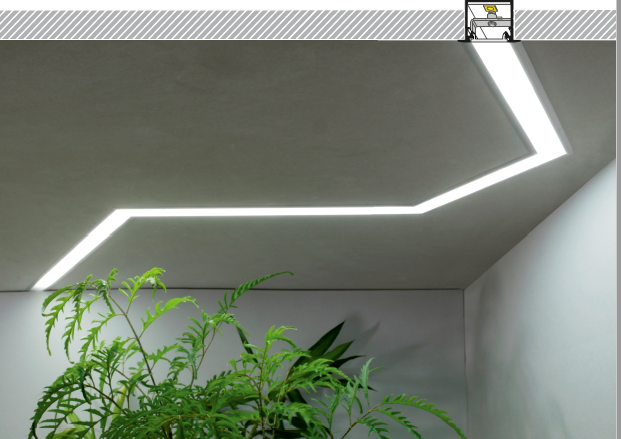 Various covers are available. The most preferred and convenient cover for mounting is F cover. An interesting solution is the E7 cover, which protrudes over the profile by 1.5 cm and the light spreads from three sides to its entire surface acting as an interesting, efficient fixture. If you are installing a small section of the LED LINEA-IN20 profile in an easily accessible place, you can choose the E slide cover.
It is recommend to install the LINEA-IN20 LED profile using dedicated U7 spring mounting plate (cone U7 mounting plate, which will allow veneering the profile with the mounting surface or with a delicate U7 spacer; rack U7 mounting plate, which has special handles for permanent mounting in the plate or in wood; U7 spring mounting plate for solid assembly and easy disassembly of the profile in the plasterboard.
DEDICATED COVERS:
E slide cover (transparent, frosted, opal)
F click cover (transparent, opal)
E7 cover (opal) - it is necessary to buy an E7 endings


DEDICATED MOUNTING PLATES:

U7 mounting plate

cone U7 mounting plate
spring U7 mounting plate

rack U7 mounting plate

DEDICATED CONNECTORS:
LINEA-IN20 60deg

LINEA-IN20 90deg

LINEA-IN20 60deg

LINEA-IN20 90deg bent

LINEA-IN20 120deg

LINEA-IN20 135deg

LINEA-IN20 180deg

LINEA-IN20 270deg bent

JOINING POSSIBILITIES:
HOW TO CHOOSE THE DIFFUSER COVER CORRECTLY:
The covers differ in the material they are made from and the transparency degree. Due to this differentiation it is possible to plan the light dispersion and obtain the desire light effect. The transparent cover absorb the least light, next is frosted and opal.
GOOD TO KNOW
the opal slide-in diffuser cover embedded in a sufficiently deep aluminium profile (e.g.  SMART10, SMART16, LINEA20), in combination with LED strip of at least 120 p/m allows to achieve the effect of a continuous light line.
Slide cover (signifying: A, B, E, G, H, J, A9) – made of plastic with three transparency levels (transparent, frosted and opal). It is necessary to insert diffuser cover from the beginning of the profile and drag along the marked socket or click into the Slick socket.
Click cover (signifying: C, C1, C2, C3 D, F, I, K, C9) – its assembly and disassembly is more convenient. It is recommended to choose this type of diffuser cover if the aluminium profile is mounted in a recess or other hard-to-reach places.
PROFILE NAME MARKINGS:
Do you have questions for the product?
If the information above is not sufficient for you, please send us your question. We will try to answer them.
Ask a question

Update Required
To play the media you will need to either update your browser to a recent version or update your
Flash plugin
.