colour

:

white

dedicated connectors

:

X connector 180deg

compatible covers

:

G slide (transarent, frosted, milk)

maximum tape width

:

27 mm

product code

:

98030001

material

:

white powder coating aluminium

manufacturer

:

Topmet Light

length

:

2 m
CORNER27 G/UX LED profile 2000 white powder coated aluminum

CORNER27 aluminum LED profile by Polish company TOPMET is a corner profile for LED light sources. On its basis you can create a modern luminaire that will add stunning atmosphere to your interior. This profile model, thanks to the possibility of using three rows of 8 mm LED strips, is able to provide the right amount of light and create a unique atmosphere and interior decoration at the same time.
CORNER27 LED profile in 2m section is made of black white powder coated aluminum.
The thickness of the anodized coating on all anodized profiles is 15µm, which means that they are resistant to scratches and corrosion.
It is recommended to mount CORNER27 LED profile using dedicated U mounting plate(cone U mounting plate – veneering the profile with the mounting surface; U mounting plate – keeping the profile with a gentle distance from the mounting surface). It is also possible to use X mounting plate, which require the insertion of the profile, unlike U mounting plate - click in the profile. The profile can also be mounted with screws, mounting glue or good quality double-sided tape.
CORNER27 LED profile has dedicated G slide covers (transparent, frosted, opal).

Depending on the choice of  CORNER27 profile fastening method, the LED strip can give light at an angle of 30deg or 60deg.
In addition to the aesthetic function, the profile is to serve as a heat sink that is designed to extend the life of the LED strip, protecting it from excessive overheating. On the other hand, the compatible cover and ending caps protect the strip against dirt and mechanical damage.
We offer the service of cutting profiles to the appropriate length. For this purpose, please contact us by phone: +48602502051 or by email: info@lightoutled.com
DEDICATED MOUNTINGS:
U cone flexible mounting plate
U flexible mounting plate
X mounting plate

DEDICATED COVERS:
G slide cover (transparent, frosted, opal)

DEDICATED ENDINGS:
DEDICATED CONNECTORS:
X connector 180 deg (to connect profiles in a line)
HOW TO CHOOSE THE DIFFUSER COVER CORRECTLY:
The covers differ in the material they are made from and the transparency degree. Due to this differentiation it is possible to plan the light dispersion and obtain the desire light effect. The transparent cover absorb the least light, next is frosted and opal.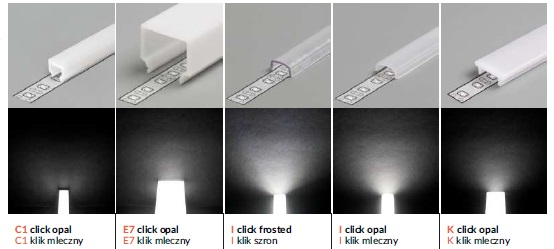 GOOD TO KNOW
the opal slide-in diffuser cover embedded in a sufficiently deep aluminium profile (e.g.  SMART10, SMART16, LINEA20), in combination with LED strip of at least 120 p/m allows to achieve the effect of a continuous light line.

Slide cover (signifying: A, B, E, G, H, J, A9) – made of plastic with three transparency levels (transparent, frosted and opal). It is necessary to insert diffuser cover from the beginning of the profile and drag along the marked socket or click into the Slick socket.
Click cover (signifying: C, C1, C2, C3 D, F, I, K, C9) – its assembly and disassembly is more convenient. It is recommended to choose this type of diffuser cover if the aluminium profile is mounted in a recess or other hard-to-reach places.
PROFILE NAME MARKINGS: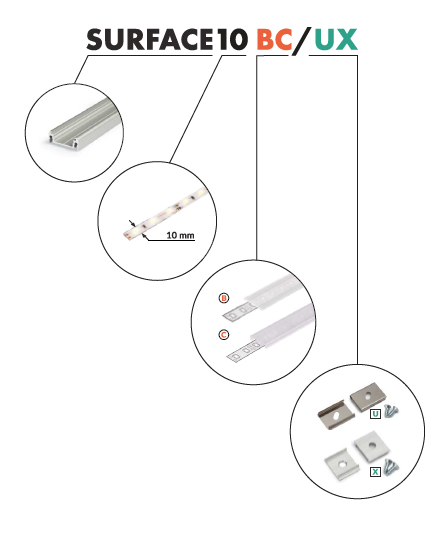 Do you have questions for the product?
If the information above is not sufficient for you, please send us your question. We will try to answer them.
Ask a question

Update Required
To play the media you will need to either update your browser to a recent version or update your
Flash plugin
.