colour

:

frosted

length

:

2 m

material

:

PP

width

:

10 mm
A slide cover 2000, frosted
A slide cover was designed to provide an aesthetic profile trim making it a small lighting fixture. It is also intended to protect the LED strip against pollution and mechanical damage. Diffuser cover A is made of polypropylene. Diffuser installation consists of inserting it from the beginning of the profile and dragging along the marked socked.
A slide cover is available in 2m section.
DEDICATED TO PROFILES:
SLIM8 LED profile
SMART10 LED profile
SMART-IN10 LED profile
BACK10 LED profile
HOW TO CHOOSE THE DIFFUSER COVER CORRECTLY:
Diffuser covers for LED aluminium profiles are manufactured by the Polish company – TOPMET. Diffuser covers differ in the material they are made from and the transparency degree. Due to this differentiation, it is possible to plan the light dispersion and obtain the desire light effect. The transparent diffuser cover absorb the least light, more light is absorbed by frosted and the most by opal.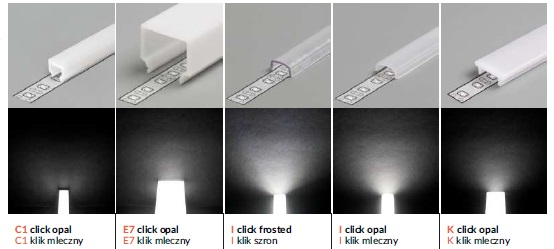 Slide-in diffuser cover (signifying: A, B, E, G, H, J, A9) – made of plastic with three transparency levels (transparent, frosted and opal). It is necessary to insert diffuser cover from the beginning of the profile and drag along the marked socket or click into the Slick socket.
Click-in diffuser cover (signifying: C, C1, C2, C3, D, F, I, K, C9) – its assembly and disassembly is more convenient. It is recommended to choose this type of diffuser cover if the aluminium profile is mounted in a recess or other hard-to-reach places.
Do you have questions for the product?
If the information above is not sufficient for you, please send us your question. We will try to answer them.
Ask a question