width

:

23,5 mm

material

:

PMMA

height

:

19,6 mm
E7 click cover 1000 opal
E7 click cover is designed to diffuse light and achieve the desired light effect. The cover is also intended to provide a nice finish to the profile, making it a small lighting fixture. It is also intended to protect the LED strip against pollution and mechanical damage. Its assembly and disassembly is more convenient than slide-in covers. Access to the ends of the profile is not necessary, which allows you to click on the cover even after installing the profile in the recess or in the furniture.
The choice of E7 click covers allows you to create lighting fixtures according to your own idea, which are able to provide not only the right amount of light, but above all will create a unique atmosphere and interior decoration.

E7 click cover is made of PMMA material.
It is available in 1 m section.
DEDICATED TO PROFILES: 
LINEA20 LED profile
LINEA-IN20 LED profile
LINEA-IN20 TRIMLESS LED profile

SURFACE14 LED profile
GROOVE14 LED profile
CORNER14 LED profile 
GOOD TO KNOW:  
The opal covers embedded in a sufficiently deep aluminium profile (e.g.  SMART10, SMART16, LINEA20, DEEP20), in combination with LED strip of at least 120 p/m allows to achieve the effect of a continuous light line.
HOW TO CHOOSE THE DIFFUSER COVER CORRECTLY:
Diffuser covers for LED aluminium profiles are manufactured by the Polish company – TOPMET. Diffuser covers differ in the material they are made from and the transparency degree. Due to this differentiation, it is possible to plan the light dispersion and obtain the desire light effect. The transparent diffuser cover absorb the least light, more light is absorbed by frosted and the most by opal.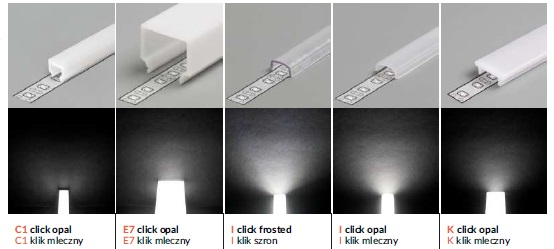 Slide-in diffuser cover (signifying: A, B, E, G, H, J, A9) – made of plastic with three transparency levels (transparent, frosted and opal). It is necessary to insert diffuser cover from the beginning of the profile and drag along the marked socket or click into the Slick socket.
Click-in diffuser cover (signifying: C, C1, C2, C3, D, F, I, K, C9) – its assembly and disassembly is more convenient. It is recommended to choose this type of diffuser cover if the aluminium profile is mounted in a recess or other hard-to-reach places.  
Do you have questions for the product?
If the information above is not sufficient for you, please send us your question. We will try to answer them.
Ask a question